If you are wondering which trekking shoes to take on the trail, you have come to the right place. In this text, you'll learn what to look for when buying them, and you'll also find out in which weather conditions which models work best, which models are versatile and which work better in winter or summer. To the point.
Boots for the mountains: low or high?
There are fierce discussions on this topic, for example on the Tatromaniac forum. The discussion is quite heated at times, and the forum moderation has also removed several, more 'blunt' posts.
According to the prevailing view, high boots in the mountains protect the ankle better against sprains. Is it true? Well, it seems that the view that tall boots protect against ankle sprains is a myth.
A Reddit user has researched the topic in some depth. He analysed more than a dozen medical studies on the subject and came to the following conclusion:
[…] tall boots are no more effective in protecting the ankle from sprains than regular footwear or the evidence for this is inconclusive […]
There are no specific scientific studies that I have been able to access that support the fact that high boots provide better protection against ankle sprains.
Additionally, the ankle is designed to flex in almost any plane, which helps cushion any kind of tripping or sudden bending. This is a natural mechanism for the human body to act as a defence against injury, which each of us has encoded in our brains from the moment we take our first steps in life.
So, if we stiffen the ankle joint, eliminating this first line of defence, the next point of cushioning will be the knee joint, which admittedly is much 'stronger' than the ankle joint, but also has less range of movement and cushioning. That is to say, even if we assume that tall footwear protects our ankle, at the same time there is an increased risk of damage to the knee joint.
Is such a swap in any way worthwhile? In my opinion, it is not.
Nevertheless, tall boots still have their uses and are irreplaceable in certain conditions, as you will find out later in the text.
Boots with or without a membrane?
The answer to this question is complex and the simplest answer would be 'it depends'. There are many types of membrane, with Gore-Tex being the most popular.
Boots with a membrane are not necessarily suitable for longer hikes in the summer months, for the reason that Gore-Tex performs best in lower temperatures.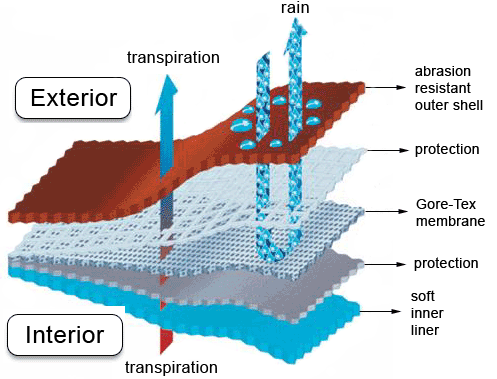 Each membrane works on the principle of a temperature differential and heat, along with moisture from the foot, is conducted outwards through the semi-permeable membrane. The closer the temperature on the other side of the membrane is to body temperature, the less efficient the process is and the more sweaty our feet become.
Shoes with a membrane are also waterproof, which is desirable in most cases, but not always.
When we do manage to get them wet, for example by stepping into a stream that is too deep and water gets into them from the top, the drying process of such boots is much longer than boots without a membrane. This is because such boots, just as they are reluctant to let moisture in, are also reluctant to let it out.
On the other hand, it is important to remember that the membrane itself is not a thermal insulating material, which is why more "high-performance" boot models, especially those designed for winter expeditions, have a membrane added with insulation to provide adequate thermal insulation. However, I would not recommend wearing such boots in temperatures above freezing, as they will simply fry your leg like a chicken in an oven.
So let's get down to business. To begin with, we will classify mountain boots according to their construction, use and versatility and divide them into 7 basic categories.
Trekking sandals for the mountains and beyond
Sandals? Yes, there is such a category of trekking shoes. Contrary to appearances, they have many advantages, chief among which are their light weight and breathability. It was in sandals that I summited my first peak in New Zealand, and it wasn't just any mountain, as it was about 2,400 metres high. It doesn't have a name on the map, but it is near one of New Zealand's highest peaks, Tapuae-o-Uenuku
Of course, this type of mountain footwear will only work well in specific conditions: in the warm summer months, on compacted trails with no particular difficulties. One of the biggest problems you are likely to experience on a mountain hike in sandals will be small pebbles getting between your foot and the sole. Sometimes you just need to shake your foot to get rid of it, but sometimes you need to stop and fiddle more.
Obviously, sandals are not suitable for climbing and rocky terrains, as they do very little to protect the foot from possible mechanical injuries. However, for an August hike, for example somewhere in the Sudety Mountains, on a familiar trail, sandals as trekking shoes can be considered as much as possible.
What should you pay attention to when choosing trekking sandals?
First and foremost, their shape. Good trekking sandals should be contoured and fit the foot well. They should also have a thick sole to effectively cushion uneven terrain.
It is also worth checking what kind of adjustment system the sandals have – we can immediately reject models with Velcro fasteners, unless we buy them for a "prune cap" for a one-time expedition, but even then it is worth considering whether such sandals will fall apart after a dozen or so kilometres, because nobody would probably want to end up somewhere on the trail without shoes.
It is also worth making sure that the surface of the sole on the side of the foot has the right non-slip structure, so that when our feet get sweaty or wet in a stream, they do not turn into an "ice rink" on the trail.
Typical running shoes and lightweight trail shoes
These are, in my opinion, some of the most versatile types of footwear for the mountains. They will work well in a huge range of scenarios from early spring to late autumn with the exception of typically high altitude expeditions into higher elevations. Personally, I walked from March until autumn this year in my worn-out Najki.
Such boots will work well in almost all, Polish mountains, except for the higher parts of the Tatras. Due to the construction of the sole, such shoes are also not always suitable for trails with extremely rocky ground. Like sandals, trail shoes have the unquestionable advantage of being light and airy. In fact, they are also highly susceptible to getting wet, but they compensate for this with their rapid drying time. In addition, unlike sandals, they cover the entire foot, giving much better protection against mechanical injury.
If you're still not convinced to wear cross-country ski boots in the mountains, I suggest you test them out on a few hikes. I'm almost certain you'll be convinced very quickly 🙂
What to look out for when buying cross-country ski boots for the mountains? Obviously, the fit of the shoes to your foot is important. Personally, in addition to walking in the mountains, I also sometimes run short to medium distances, so for me the transition to using running shoes in the mountains was smooth and natural. If you don't have such shoes in your 'arsenal', I would suggest the good and proven Nike Tanjun model (the weight of one shoe is less than 200g!), and as far as typical trail shoes are concerned, a good position would be the DYNAFIT FELINE SL or, more toned down in colour, the excellent SALOMON Speedcross 5 W
Lightweight approach shoes
Approach shoes are usually low shoes, originally created for – as the name suggests – the approach to a climbing site. They were intended to be lightweight by design, because once they had served their purpose they would land in the rucksack, replaced by typical climbing shoes. However, everything is changing and today approach shoes have evolved into a separate category of trekking footwear. Their distinctive feature is the lacing, which extends almost all the way to the top of the shoe, by which they can be distinguished from other types of trekking shoes. They are also generally slightly stiffer and narrower than classic trekking shoes. They are great for moderately difficult terrain, including stony ground.
Instead, they are not very suitable for longer hikes, mainly precisely because of their stiffness and relatively narrow sole width.
In summary, approach shoes will be a good option for short expeditions in more varied terrain, barring winter of course.
Lightweight and tall mountain boots
Let's move on to the subcategory of high boots. In this subcategory, we have a range of boots to choose from for all occasions, which just opens with tall but lightweight boots. They are generally made of soft leather and often have fabric stitching or are even made mainly of airy, breathable material. They often lack a rubber heel, which protects the foot better, but also adds to the weight of the shoe.
Such a light and high trekking shoe is an intermediate solution between typical above-the-ankle shoes and low and light shoes. The thick sole makes it suitable for rocky paths, but not for climbing. And they are a three-season shoe, in winter we need to reach for better insulated models.
In my opinion, such boots are not really suitable for anything. They seem to be there, but you don't know exactly when to wear them. In summer, there are the boots I mentioned earlier, which are much better suited to the terrain and don't cook the feet. For winter expeditions, on the other hand, we have a range of 'larger calibre' boots, which I will write about later. The only reason someone might want to go into the mountains in such boots is their appearance. In fact, some look quite good, for example the Columbia Fairbanks Omni-Heat which weighs less than 500g.
Boots for the mountains – high intermediate boots, the most versatile ones
If you're looking for the most versatile boots of the lot, these are the tall bulls with 'intermediate' performance. Such boots are reinforced at least on the toe and the heel with a rubber lining, which not only protects our foot, but also improves protection against water. We can walk freely in them on rocks and stones without fear of injury to the foot or damage to the shoe itself – within reason, of course. Such boots are generally of stronger construction than the previously described group, they are also stiffer and have a harder sole. They have an insulating layer to provide adequate thermal insulation during winter excursions.
Here you need to consider whether you want to take boots with or without a membrane. If we want the boots to be as versatile as possible, that means we will be using them all year round. A membrane, as I wrote earlier, works great in lower temperatures, whereas in summer, our foot will get cooked. So we have 2 options here:
One, an all-purpose pair of boots without a membrane, in which we will walk all year round, but in winter we will need additional warming of the foot, for example by buying appropriately selected socks. I will write more about socks later. The disadvantage of this solution is that we will have to use heavier shoes in the warmer months, and the ventilation of the foot will not be as good as, for example, in trail run shoes.
A system with two pairs of shoes. Shoes with a membrane that we will only wear in the colder months, while in summer we will wear lighter and more breathable footwear.
Which system you choose will depend on your personal preferences and your wallet.
High winter boots
This is already a category for more specialised use. If you are looking for such boots then you need to know what you are doing and what you specifically expect. They are generally made from a single piece, strong, waterproof leather. Decently insulated, they also have a membrane, which in this type of boot is not an option but a must have. Such footwear is perfect for expeditions, for example to the higher parts of the Tatra Mountains. Your feet will not get cold in them, even in temperatures well below zero.
These types of high winter boots, thanks to their massive construction, stiffness and hardness, are designed to fit crampons.
Super massive winter climbing boots
If you are going to the North Pole, or want to climb Mount Everest, these are the boots for you.They are heavy boots, armed with a membrane with insulation, stiff and hard. They are suitable for climbing and perform best in temperatures well below zero. There's not much to say – if you're looking for boots like these, you probably know exactly what you're doing and this guide is unlikely to be for you 🙂
How to fit trekking boots? Which trekking boots to choose?
When choosing your mountain boots, pay attention to a few key aspects. It goes without saying that the boots should be made decently with the highest quality materials. When it comes to boots, in my opinion, it's not worth saving – once spent, the amount will pay us back in the form of comfort and features that will make our expeditions a pleasure rather than a journey through agony.
When choosing a model, pay particular attention to the stability of the shoe. It is influenced by 2, basic features:
Appropriate profiling of the heel – it should be slightly rounded, some types of footwear additionally have a special heel lock, which further improves the fit and stability. This fit prevents the foot from floating in the shoe, allowing you to take confident steps even on technically difficult terrain and avoiding unnecessary abrasions.
Sole width. Professionals often use approach shoes with a slightly narrower sole, but for most of us, the best model will be a shoe with a relatively wide sole.
Let's assume that you have already found a particular model and would like to buy the model you want. What about the fit of the shoe to the foot?
Well, when sizing your shoes, there are a few things to bear in mind.
Remember that you will have a sock on your foot, or even two. What thickness it is is not irrelevant. In winter boots, the sock is likely to be thick, maybe even very thick. Take this into account when buying boots.
The foot always increases a little in size during a hike, it swells up. To what extent this happens depends on your physiology and individual characteristics. Therefore, it is best to measure shoes not in the morning, but in the afternoon and evening, when our foot is already "swollen" after a day of walking.
Because of the above correlations, trekking shoes should always be a little bigger than our normal size. How much? It is difficult to determine this with 100% precision, but it can be assumed that light shoes should be 0.5 to 1 cm larger, intermediate shoes 1 – 1.5 cm, and winter shoes 1 .5 to 2 cm.
Buying shoes online
Some people may have doubts about being able to get the right size when ordering shoes online. Personally, I'm a big fan of online shopping. Firstly, in the event of a mismatch, we always have the right to return the purchase within 14 days without giving a reason. This is the Polish law for online shopping.
Some online shops even extend this time to 30 days or more. So if the shoes turn out to be too tight, for example, we send them back and order the same model, but a number larger. Simple.
In addition, in online shops, prices are generally lower than in stationary shops, sometimes quite a lot, and many times we can find all sorts of discounts, promotions and discount codes. We also have a much larger selection than in a stationary shop, even the largest and best stocked one.
In my opinion, mainly just advantages.
Socks – a subject not to be underestimated
The comfort of our trek depends as much on the shoes as on the socks we wear. Socks wick moisture directly away from the foot and are the first point of contact for the skin of our feet. They also add extra cushioning, which is of colossal importance for our joints. And, of course, they provide thermal insulation, which, in simple terms, protects us from the cold, although good wool socks will also keep us cool on warmer days.
The condition of our feet is heavily dependent on the quality and type of socks we put on, and on any hiking trip, foot condition is one of the most important things to take care of.
We won't get very far if, because of an ill-fitting sock, we get blisters on our heels on the fifth kilometre of the hike. Therefore, it is not worth saving too much here and you should choose socks which will successfully serve you for many seasons.
Such top quality products include socks made of merino wool.
In general, wool itself accounts for some 30-50%, the rest being artificial fibres. The addition of synthetic fibres is essential, as pure wool has low abrasion resistance and is not very flexible. The addition of artificial fibres alleviates this problem.
Merino wool is a miracle product of nature. It wicks away moisture brilliantly. It warms in winter and relieves our feet in summer by discharging excess heat. Socks made of this material, due to their thickness, provide excellent cushioning for our every step, increasing the comfort of our journey. And socks made of merino wool also have antibacterial properties, which in turn translates into a "less intense" smell of socks and feet, even on long trips.
However, if for some reason wool socks do not suit you, synthetic fibre socks are an alternative here. These are generally cheaper than good quality wool socks, but the performance is not as excellent as their natural counterparts.
As for cotton socks, I would advise against using them for hikes longer than a few hours. Cotton soaks up moisture quite quickly and then takes a long time to dry. While on a short hike we should be able to endure such an inconvenience without too much trouble, on hikes of several days we may end up with chafing, blisters and abrasions.
One pair or two pairs of socks?
Some experienced hikers use a patent with two pairs of socks, which is intended to improve the rate of moisture removal from the feet. The idea is that you put on the thinner pair of socks first, and only then put on the second, thicker pair.
The theory behind this system is that a thin sock wicks away moisture faster, which is then absorbed by a thicker one, and the moisture is then carried outside in the form of water vapour. I personally tested this system once, but without much success. The thicker sock kept slipping off my foot because it was slipping on the thin one and didn't get enough grip. And I didn't notice any significant improvement in terms of wicking.
However, I can't rule out the possibility that someone else might find this way – test both and choose the one that suits you best.
How do I maintain my trekking boots?
When it comes to caring for footwear, here the most important thing we need to ensure is that they are dry and waterproof. Most trekking boots have leather inserts and it is the leather that is the most work.
After every hike, clean your boots thoroughly of mud, leaves, grass and other mechanical debris. If you want to do it properly, it is best to take out the laces and scrub them thoroughly with a set of brushes, dry and wet.
After this procedure, leave the shoes to dry at room temperature. Remember never to dry your shoes, especially leather shoes, on a radiator, heater or with a hair dryer. This is the easiest way to irreparably damage your shoes. To speed up the drying process on the inside, you can put fist-sized balls made of newspaper or paper towels in your shoes. You can also put in a pair of cotton socks rolled into a ball, for example.
Once the shoes have dried, it's time for proper care. Every self-respecting shoe manufacturer has a set of cosmetics designed for our particular model. There are many types of leather, and each material should be treated with a specific product designed for it. There are also universal sets, which can be used to care for most materials.
Of the universal remedies, we can recommend beeswax or petroleum jelly, but here there are exceptions, so it is better to use cosmetics specifically selected for our shoes. The most important thing we want to achieve is to maintain the leather in such a way that our shoes become waterproof.
In addition, well waxed leather is more flexible and therefore more comfortable and more resistant to damage caused by bending. Wet shoes, especially in winter, can deteriorate very quickly, especially if they freeze at a rest stop or during an overnight stay. Wearing such frozen boots, apart from the obvious discomfort, will almost certainly cause damage. In addition, wet boots nullify the effect of the membrane. So let's take care of our footwear and it will serve us for many years.
Is it worth putting on a stiletto?
Sometimes it is. Particularly when it rains, when moisture gets into the boots "from above". Some people use a patented method and put the booties under their trousers, not on top. This allows the water to flow downwards unhindered and does not run into the boots.
A further use for the stupture is on sand or gravel, where every now and then a pebble will fall into your shoe. Good quality running shoes do not weigh much and can be carried in a rucksack "just in case".
How do I look after my shoes and feet during a trip?
I mentioned earlier that foot condition is of colossal importance for any traveller, and the longer the trip, the more you need to focus on this aspect. So how do we look after our feet on the trail?
Trim your toenails short before the expedition.
During the trip, check the condition of your feet on a regular basis. Pay attention to even minor abrasions which, unnoticed, can turn into open wounds during the journey.
Keep your feet dry. It's not just about walking comfort, because I don't think anyone likes walking in wet shoes, but rather that wet feet are highly susceptible to all sorts of injuries. The skin on wet feet becomes soft and easily damaged. In a moist and warm environment, pathogens of all kinds, such as fungi or bacteria, also have ideal conditions for growth.
Change your socks at least once a day, and every time you get them wet.
Don't ignore seemingly minor inconveniences. A slightly corrugated and poorly placed sock on the foot, after 20 kilometres, can turn out to be the cause of a deep and painful abrasion. The same goes for any kind of pebbles, sticks or other foreign objects that get into our shoes.
On longer journeys, take off your shoes (sometimes your socks too) at every stop. Give your feet a rest. When walking, the feet increase their volume (swell). This is a natural phenomenon, but it is worth counteracting it. In summer, you can soak your feet in a cold mountain stream flowing nearby. This will certainly bring you relief. When resting, lift your legs above your head by resting them on a tree trunk, for example. This is also a proven way of regenerating not only your feet, but your whole legs.
In cold weather, regularly wiggle your toes in your shoe to restore adequate circulation. This will protect you from the danger of frostbite.
A very important lesson from Lieutenant Dan 🙂
Summary
As you can see, the topic of trekking shoe selection is extensive, but in the article I have deliberately covered only the most important aspects of the issue. I have not written anything about the types of soles, I could have written in more detail about the whole range of materials from which footwear is made and dozens of other things.
However, this text is intended to be a guide that introduces the layman to the subject of choosing the right footwear for the trail, and I think I have achieved this aim. Or have I left out something important? Let me know in the comments.
To sum it all up in 4 short points:
Recognise the terrain. Will there be a lot of mud on the trail, or will it be mostly striped? Will it be flat or more varied?
Carefully choose your shoes in terms of shape and size.
Choose the right socks, which are just as important as the shoes.
Check the condition of your feet regularly.